Scorn feels like it was made for multiple purposes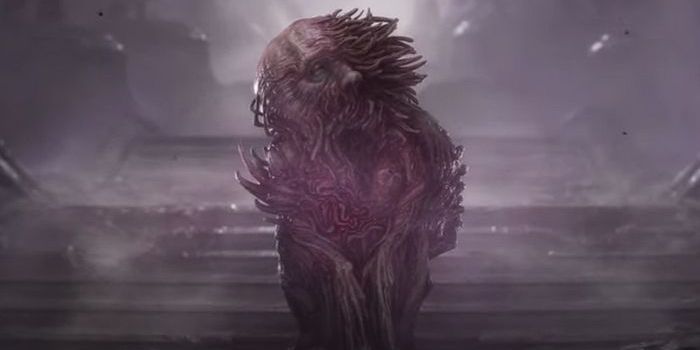 Scorn is a divisive, disgusting, yet quite remarkable game, sending you on the darkest of odysseys through an alien landscape that harbors the remnants of a biomechanical society. I reviewed the game, analyzed its story, and was amazed by some of the cosmic horrors in it. There were times when I didn't particularly enjoy the experience of playing it, and yet those were ultimately outweighed by the amount of fascination this biomechanical world filled me with.
But one aspect of this unspoken narrative adventure that didn't quite do it justice was the ending, which simply left me feeling a little short-changed after my hours of struggling. At a time when some degree of player autonomy might have made sense of our own roles as players on this journey, the game takes the reins and directs you to a 'meh, everything is futile' conclusion that just doesn't seem as profound as the journey that led to it.
To summarize: in the final act you arrive in a temple high in the clouds. You manage to get rid of the parasite that's been stalking your back since Act 2, then sit in a chair where a surgical robot cuts you out and connects your brain to what appears to be a hive mind. At this point, you alternate between controlling two sentinels, which you use to open the gates to a swirling vortex that could be any number of things: heaven, another dimension your species has gone to, some kind of void cosmic?
For a more in-depth analysis of the story and the ending, check out our detailed explanation.
Judging by the statues surrounding it, this place "beyond" is something coveted by this society, a promised land that (perhaps) is not meant for just anyone – especially a humble plebs like the one you seem to embody here. Afterward, your character uses the two mind-controlled sentries to try and break through the door. Before he can get there though, he is attacked by the Parasite, which merges with him and turns him into a desperate, pathetic monument at the entrance to the mysterious void.
ALSO READ: This PS2 Horror Trilogy Is The Most Terrifying Ghost Story In Gaming
It's a dark ending for sure, but it's not like the hours leading up to it make you think a game like this would end in sunshine and rainbows. A satisfying conclusion doesn't have to be happy, but it certainly feels like it could have said something deeper than a) All your efforts are in vain, or b) Your character makes a mistake that you , the player, must now pay. Scorn's ending doesn't address the player's own ordeal to get to that ending, and it leaves you feeling a bit empty, having failed to complete some of the cool themes it flirts with throughout.
Of course, this ordeal is intentional; from the visuals of the parasite tearing you apart, to the various switches that double as torture equipment, and even the stiff and uncomfortable combat, the journey is rough. If you're a sick person like me, or a fan of HR Giger's biomechanical art or Zdzislaw Bekszynski's hellish landscapes, then this trip is equally captivating (with an emphasis on the raw), and the player, developers, and even the character you play deserve to be complemented in style.
The frustrating thing is that it seems so clear where these choice tipping points could have been implemented. First of all, it looks like your character could have accepted a place in the hive mind without necessarily trying to go through the pearly gates. The room where your brain and *um* ramrod connects to the hive mind is surrounded by others like you who have gone through the same process and seem to have found purpose in connecting with this higher being. In a story that seems to explore themes of the individual versus the 'everything', this might have been the perfect time to cement this by letting the player choose between their individualistic drive to see what's in this big au beyond (the end we had), and the collectivist decision to become one with the hive mind.
Some people have also theorized that the Parasite isn't as bad as it looks (at least not until you take him out in the end and goad him into getting revenge). The Parasite provides you with a weapon and very kindly holds your ammo pouch when you need to reload. There's a kind of symbiosis there, where you two need each other to go as far as you do, and yet your character chooses to give it up. You can understand the instinct, of course, but given the ambiguous relationship between the character and the Parasite, it again requires some sort of player agency whether to keep or get rid of the Parasite. And what would an ending with the Parasite be like intact? Would it really have been bad?
Scorn isn't much of a game about choices, though oddly enough you make a pretty big one early on about whether to kill or free a certain character. This, to my knowledge, is the only binary style choice you have in the game, and with the seemingly uncharted choices of the final act, I wonder if at some point during its long development Scorn was going to be more choice-oriented. before the direction was removed.
NEXT: The Real Problem With James' Face In The Silent Hill 2 Remake