EYFS: How prehistoric learning can help us fight climate change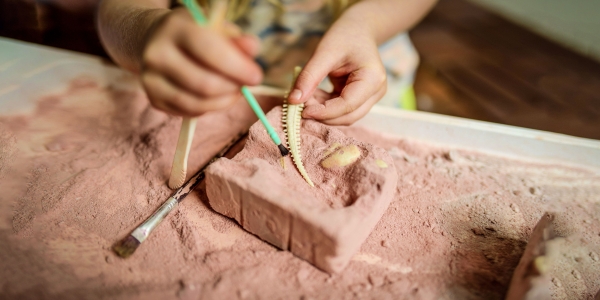 Several years ago at Turkeyan archaeologist invited me to descend into a pit where one of the first urban settlements was being dug up.
The site welcomed the first "city dwellers", who left their nomads, hunter-gatherer lifestyles behind to begin a continuous period of innovation, beginning around 6000 BC.
Archaeologists have discovered how these townspeople dealt with the perennial problem of local clay: this material expanded with each rain and shrunk with each drying, causing the walls to become unstable and toppling.
Locals therefore devised ways to support the collapsing clay walls: first using tree trunks as poles, then experimenting with larger bricks and sandier clays, before developing foothills – a structure built against another structure in order to reinforce it.
This accumulation of knowledge and experience has enabled humans through the ages to create and shape technology that responds to immediate, concrete, and changing needs.
However, the shift from hunter-gatherer societies to urbanization required more than just a transfer of knowledge: it also relied on our ancestors to make a major cultural 'shift'. – a change in cultural values ​​and ideas that helped to transmit this progressive technological approach through the generations.
---
Learn more about teaching and learning in EYFS:
---
I recently worked with the anthropologist Dr. Fiona Coward at explore, from the perspective of psychology and neuroscience, how this deviation occurred. We found a possible answer in an unexpected neighborhood – the EYFS classroom.
The children of these early city dwellers were exposed to far more technology than they would have seen growing up in a hunter-gatherer band. Partly because of changing childcare regimes, they would have watched, listened to, and sometimes imitated adults as they worked with materials to solve everyday problems.
Engaging EYFS students in the fight against climate change
For these children, collapsing and repairing a wall at home would have been a big technological event unfolding before their eyes. Indeed, the fingerprints of children and the traces of teeth in clay objects confirm their presence during manufacture.
Our growth agreement of the developing brain suggests that it could have created a stronger cognitive base for them, to innovate in adulthood, to help kick-start cultural transformation, and something we might call "progress."
We can learn from this as we attempt to create the profound cultural change needed to solve some of the biggest problems we face as a society today.
Take climate change, for example. The fight against this requires us to make another cultural shift away from technology – this time towards its use in environmentally friendly lifestyles. And, as archeology teaches us, we must be aware of children's early experiences if we want this deviation to occur.
The key message for schools is therefore that it is impossible to start environmental education too early.
Around the age of five, we have already started to learn cultural differences in the way we direct our gaze. In other words, those around us determine how we (literally) look at the world – including whether we only see a flower or also the forest on which it depends.
This orientation of our gaze helps to define where we find ourselves on the collectivist-individualist scale, with collective thinking predicting more climate change action in adulthood. Recent research suggests that this gaze orientation can begin as early as 24 months.
So even if it's great a new GCSE natural history degree is intended for teenage students, science tells us that sooner is usually better.
Introducing children to the natural world as babies is essential. Outdoor activities, followed by drama, art, games and conversations with adults about climate change can help lay the foundations for the profound cultural change we need.
A multitude of agencies now also offer fantastic climate resources for early childhood practitioners including the charity Sustainability and Environmental Education (SEEd).
However, the impact of these lessons may depend on how children are encouraged by their teachers to look and reflect on what they are experiencing – and to see the flower as part of the forest.
Just as infant learning helped initiate technological progress in our ancient past, the role of early education in combating climate change should not be underestimated, as we attempt another cognitive leap to save our skin.
Paul Howard-Jones is an educational neuroscientist, known for his work on Channel 4 The Secret Lives of 4-Year-Olds.